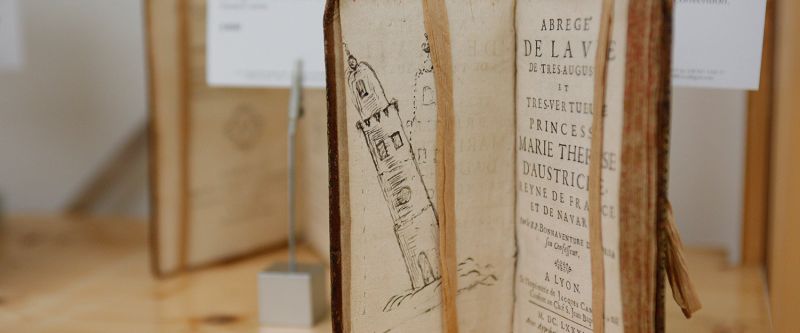 By Keith Fletcher (There from the beginning) and Adrian Harrington
The idea that the ABA could organise book fairs to give provincial antiquarian booksellers (of which there was still at least one in most of Britain's market towns in the 1950s) a temporary shop window in London came from a small group of booksellers who, in the summer of 1957, rented one of Sotheby's galleries in Bond Street during the auctioneer's closed season and offered their books for sale on some simple shelving.

The ABA committee had long been aware of an imbalance in the benefits of membership between London and Country and saw this idea as a good way of providing extra service to country members. In 1958 the first ABA Book Fair was announced; to be held at the National Book League in Albemarle St. from 6th to 21st June "Mondays to Fridays 11-6.30, Thursdays 11-8, Saturdays 11-5". In the event only nine country members took up the offer of stands at 15 guineas each and various London dealers were dragooned into filling the remaining nineteen places.
The second aim of the book fair was, and still is, to promote the idea of book collecting and especially to demonstrate that it can also be done on a modest budget. To this end there was at this fair, and for many years afterwards, a cooperative stand for "Books under £5" to which exhibitors were asked to contribute a few books each. To further underline the collecting theme the fair was even renamed. From 1966 to 1970 it was known as "The Book Collector's Fair".

That the original exhibitors found a fair lasting 16 days and encompassing 3 weekends tedious in the extreme is amply demonstrated by the fact that as the fair shortened so the number of exhibitors slowly rose until by 1970 the fair was down to 4 days and the exhibitors up to 45. In 1971 the ABA were hosts to the Annual Congress of the International League of Antiquarian Booksellers (ILAB) together with the book fair which now accompanied it. The resulting 85 exhibitors necessitated a much larger venue so a move was made to the Europa Hotel in Grosvenor Square. At the same time the fair was shortened to 3 days. Despite this success there was much discussion on whether to continue at the Europa for our domestic fair in 1972. Some brave souls on the book fair committee opted to stay at the new location and were amply justified when 1972's exhibitors totalled 89. That 1971 ILAB fair proved to be a watershed as from then on exhibitor numbers continued to climb towards the 150 we have today, occasionally backing up into waiting lists that prompted moves to the Park Lane Hotel in 1984, Grosvenor House in 1994 when Princess Margaret opened the fair, and Olympia in 1998.
As the fairs grew in stature it became obvious that the organizing committee had a duty to exhibitors to gain as much publicity for the fair as possible. It was also abundantly clear that we had little expertise in this area. Just how little was demonstrated in the early '60s when our first publicity consultants obtained an astonishing amount of publicity through some original drawings by Donald McGill for his saucy seaside postcards when on the stand right next door was a spectacular copy of Higden's Polychronicon printed by William Caxton in 1482 that had many a bibliophile salivating. This was a salutary lesson and subsequent committees have always employed professional consultants and sought to provide them with as much raw material as possible.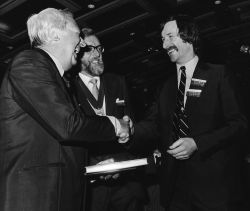 Openers; the famous, the controversial, and the glamorous, were always an important part of this and the fair has been opened by such diverse people as Mrs. Harold Wilson, Lady Antonia Fraser, Tom Stoppard, Ted Heath, Barry Humphries, The Earl of Drogheda, David Bellamy and Princess Margaret. The openers have often, but not invariably, contributed an introduction to the fair brochure. Other introductions were written by literary figures such as John Betjeman, Lawrence Durrell, Sacheverell Sitwell and John Arlott and these ephemeral pieces have been eagerly sought by the 'completist' collector. In the case of Lawrence Durrell who contributed to the Fifth Fair (1962) there was even a signed edition, limited I seem to remember to five copies. One of these was auctioned at the fair, making £100 for charity.
Another major effort to provide the publicity consultants with material, apart from the perennial cajoling of dealers to give details of their exhibits, was the organizing of loan exhibitions whose preparation well in advance made them available to those magazines that go to press months before publication. The first of these, curated by the late Ben Weinreb, was entitled "Books of Hate". It was a provocative exhibition of books which have been accused, rightly or wrongly, of inciting hatred, whether for political, religious, ethnic or other specious reasons, among people, factions, or even nations. This excited tremendous interest in the media and, as a publicity exercise, was a hard act to follow. The subsequent series of exhibitions therefore aimed at being instructive and entertaining rather than provocative, with such titles as "Cartographic Curiosities", "Bound to be Noticed - An exhibition of strange book bindings", and "Mechanical Carriages in Print 1600 - 1850".
The steady rise in exhibitor numbers together with a parallel rise in visitors inevitably produced an equivalent increase in the total turnover. In 1978 this stood at just over £600,000 and was considered quite satisfactory. The next year, however, produced an extraordinary leap to well over the million pound mark, and although this slipped back the following year to just below one million that was the last occasion on which we failed to achieve a seven figure total. The instigator of this quantum leap in our fortunes has always been identified as a Spanish chambermaid working (or rather failing to work) at Grosvenor House. Her misdemeanours caused her to be given the sack; her union called a strike, and the erection teams for the Grosvenor House Antiques Fair refused to cross the resulting picket lines. The Antiques Fair was cancelled at the eleventh hour and a number of visitors came round the corner to the Europa to spend their money at the ABA fair. ("It's an ill wind.....").
Today visitors and exhibitors alike expect the fair to be international both in name and nature; but it was not always thus. Although David Magee from San Francisco was exhibiting as early as 1961, followed by Howard Mott from Massachusetts in 1962, Dawson's of Los Angeles in 1963, and the first European exhibitor, Menno Hertzberger from Amsterdam, the "Father of the League" (ILAB), in 1964, it was once again the 1971 fair, annexed to the ILAB Congress, which provided the springboard for change. Forty-four exhibitors in 1970 swelled to eighty-six in 1971, of whom twenty-nine were from abroad, mainly from the United States and Europe, but including a pioneering cooperative booth by the Antiquarian Booksellers' Association of Japan, and with that the cosy little domestic fair of National Book League days began its metamorphosis into the dazzling international fair that it is today.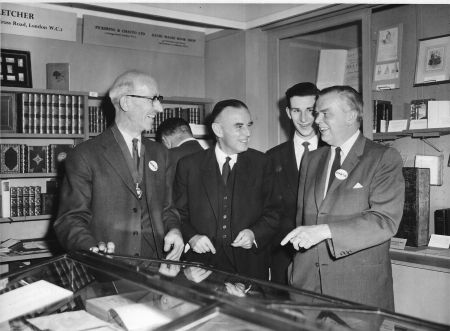 The momentum for that development was the bold decision by the 1972 book fair committee to forsake the National Book League and remain at the Europa with the idea of attracting more international exhibitors. That decision was made easier however by the knowledge that we could count on Wally Bagge. Wally was a bon viveur and a very natty dresser, but more importantly he was an exhibition contractor of considerable experience. It was he who made an arrangement with Remploy Ltd to hire some of their shelving; an arrangement which lasted several years until his contact at Remploy retired and we were obliged to buy (through a hastily arranged 'shelving fund') the shelving that we still use to this day. Wally got on well with booksellers; solved any problem that we brought to him, and in the aftermath of each fair entertained the Book Fair Committee to lunch at a fine restaurant selected from his little black notebook.
The other person who worked closely and, as she got to know the eccentricities of both bookseller and customer, ever more effectively was Heather McConnell who looked after our advertising and public relations. Heather was a 'grande dame' who always seemed as though she had just arrived from a weekend house party in the country. She was a consummate networker even before the term had been invented, and knew everyone in the art and antiques world, her close friend being the art correspondent, Geraldine Norman. From the early '70s to 1987 she and her assistant, Jackie Young, were instrumental in attracting some of our more glamorous openers as well as arranging for radio interviews and editorial coverage in both monthly magazines and national newspapers. Heather was always insistent that we have material ready to feed to the monthlies well in advance and that she found it much easier to promote books that were in "an exhibition" rather than items for sale. Therefore the committee resurrected an earlier idea of attaching an exhibition (which, unlike exhibitors' stock, there was no problem in having ready for journalistic deadlines) on various appropriate themes. "The Fleet Street Connection" curated by Gordon Phillips, Leslie Forse and John Frost with material from The Times and The Press Club of London illustrated the history of journalism; "Christopher Saxton and His Atlas, 1579" celebrated the quatercentenary of the first atlas published in England; "Bound to be Noticed" was a display of book bindings using unusual materials, wood, tin, glass, etc.; "Treasures of the National Libraries" showed a selection of recent acquisitions made through The Friends of the National Libraries; "Mechanical Carriages in Print, 1600-1850" was a survey of the prehistory of the motor car; "STC. The Scholar's Vade Mecum" was curated by Paul Morgan to publicize the work of revision; and one year John Randle of The Whittington Press printed a keepsake at the fair on a Hercules hand press, much to the delight of Barry Humphries, that year's opener, who insisted on having a go himself.
The Europa Hotel [now The Marriott] on Grosvenor Square became home to the book fair for some fifteen years. It had a good central location, the ballroom was spacious, with the best access for loading and unloading that could possibly be wished for, together with all the ancillary services of a 5-star hotel. In 1984 however, the ABA's turn to host an ILAB congress came round again and with it the obligation to organize a book fair. This, once again, prompted a move to larger premises, this time to the Park Lane Hotel where we were able to accommodate 131 exhibitors, albeit over two floors and several rooms, as against the 100 that we had managed to squeeze into the Europa. In the days before statistics were gathered at book fairs the commercial success of this particular fair can only be guessed at, but a look through the exhibitor list shows the solid middle ground of the English trade studded with international titans of the day; the likes of Kraus and Nebenzahl, Reese and Rendell, Isseido and Yushodo, Tulkens and Rosenkilde og Bagger; a mix that was sure to have attracted the visitors and produced some good business.
The Book Fair Catalogue has taken various forms. Beginning as a simple list of exhibitors' names and addresses, the next year it offered a half-page history of each firm and by the fourth year it also included a cooperative catalogue, thought to be the first ever produced by ABA members. The editing of such a catalogue was apparently found onerous, witness this extract from the introduction - "A general exhortation to brevity... did find a sympathetic response in some quarters. Thus a copy of Goya's La Tauromaquia, 1815, one of the most desirable items on show, is dismissed in three brief lines, while elsewhere full collations are given for books of a less obvious claim to fame" and in the following year the Book Fair Catalogue reverted to a simple list of exhibitors. In 1979, under the chairmanship of Raymond O'Shea, the idea of listing books for sale was resurrected. This time, having learnt the lesson of the cooperative catalogue, each exhibitor was allocated a full page which they could fill as they wished. These catalogues proved a popular and effective means of promoting the fair and they soon developed from a modest octavo into a heavyweight large quarto. By 1986 however size proved to be their undoing; visitors found them too cumbersome to carry round the fair and postal costs became exorbitant. More modestly sized ones were issued from 1999 and, with the increasing influence of the internet, finally abandoned in favour of the pocket-sized exhibitors list that is used today at Olympia.
Over the sixty years of its existence there have been some spectacular displays at the London Antiquarian Book Fair and it would be invidious to begin mentioning them, except perhaps for the one that it proved impossible to ignore. In 1978 on the counter in front of Quaritch's stand there was an enormous vase filled with large white lilies obscuring the bookshelves behind and filling the room with a heavy perfume. It was explained to curious enquirers that Quaritch were celebrating their sale of the Pforzheimer Gutenberg Bible to Texas and that the lilies were "Lilium Gutenbergensis". Perhaps one could also mention surely one of the oddest - an inflatable globe invented by W.G. Grace's grandfather.
In 1994 the fair moved again, this time into the home of the Antiques Fair, Grosvenor House, where it was opened by HRH The Princess Margaret Countess of Snowdon. We stayed there for the next three years but found it increasingly difficult to find a suitable gap in the Grosvenor House calendar and were finally saved by a brave new leap of faith into our present home, Olympia.
A History of the ABA Summer Book Fair 1999 to 2016
by Adrian Harrington (Chair from 1999 to 2009)
The move to Olympia came after much soul searching. The first two weeks of June had, for a long time, been the target period for the fair. The fine art season started with the Olympia Antiques Fair in the first week of June and finished with the Grosvenor House Antiques Fair around the middle of June. Several satellite fairs had grown up during this time. Our search included four main criteria; the first fortnight in June, easy access, both for setting up and for visiting customers, a large enough venue to grow the event and a connection with one of the other antiques events. We visited all the likely venues in London and they all failed on at least one count. Olympia ticked all the boxes. It had one major drawback though. A number of members were worried about a move away from central London. The ABA committee meeting, where the plans were to be approved, had the largest attendance of past presidents ever recorded. The majority present were opposed to the move. The debate was heated but in the end the committee accepted the argument that we had little choice and voted the new venue through.

Meetings were held with Victoria Borwick, the chair of the Olympia Antiques and Fine Art Fair. Victoria later went on to stand for Deputy Mayor of London and subsequently became the Conservative M.P. for Kensington and Chelsea. She was enthusiastic about working with us and we agreed to have the Book Fair and Antiques Fair connected by a carpeted and decorated walkway. The budget was approved and Barry Humphries, aka Dame Edna Everage, was asked to open the fair in 1998. He was a great choice making an eloquent and amusing opening speech. He told us of his first purchase of a secondhand book when he was a young boy growing up in Melbourne, Australia. His mother kept a "squeaky clean" house and when Barry, having saved his pocket money, proudly came home one day bearing his prize purchase his mother said, "Barry, get it out of here. You don't know where it's been!"
The fair was a runaway success. In the final year at Grosvenor House 94 dealers exhibited. There had been no room to house any more. The first year at Olympia saw the number of exhibitors rise to 148! The move out of central London was vindicated. With great excitement and increased confidence planning began for the subsequent years. In 1999 the fair attracted 160 dealers and was opened by Sir Roy Strong. 1999 also marked the end of an era for the Book Fair catalogue. Previously exhibiting booksellers had selected one or two choice items from their stock for inclusion in the catalogue, a lavish production whose main aim was to promote the fair. This it had done with great success. The problem was that, with difficult lead in times and the requirement that the selected book(s) could not be sold prior to the fair opening, dealers had to take the items out of stock for some 5 months. This was becoming less and less viable commercially and so the decision was made to abandon the catalogue in favour of a simple fair guide. There was an added advantage of saving money which could now be used to promote the fair in a more modern way.
With the start of the new millennium the centre of gravity for antiques and fine arts seemed to move west to join us. Sothebys took the two floors above us at Olympia. The international Map Collectors Society (I.M.Co.S) took over the basement for their annual fair, timed to coincide with ours. The PBFA made plans to move nearer to us and took over the Commonwealth Institute and subsequently moved to the Novotel at Hammersmith and finally to their present venue. Gerry Mosdell, founding father of the PBFA, set up a very successful independent book fair at the Hilton Hotel, next door to Olympia. We worked closely with everyone so that we could present an easy to understand book week in London in June. The start of the new century also meant that we needed to embrace the web. Mark Harrison, who had built the website for the San Francisco Book Fair, was asked to do the same for us. And thus it was launched. The "take" at the fairs floated around the £4 million mark. All in all there was only one place to be at the start of June if you loved books and that place was West London!
We continued to have patrons who came and opened the fair for us. Our PR person was the redoubtable Vanessa Clewes Salmon. Vanessa managed to persuade a galaxy of people to attend the fair and write a few words for our fair guide. They included, Joanna Lumley, Frederick Forsyth, Simon Callow, Andrew Motion, Jeremy Paxman, Bob Geldof, Andrew Marr, Lynda la Plante, Melvyn Bragg, Zoe Wanamaker and Jacqueline Wilson.
The latter presented us with a charming problem. How to run a book fair and keep control of the hordes of children we had been warned would attend. In the end it went wonderfully well. As Ms Wilson was shown around the fair small groups of excited youngsters discretely trailed her, not getting in anyone's way. A book signing at the end involved an orderly queue of children, with their small armfuls of books, patiently waiting for them to be signed by the heroine. Standing next to a bookseller I noticed that one little girl, with a very large pile of books for signing appeared to be taking a very long time. She had a notebook full of questions which she was interrogating the author with. I turned to the bookseller and whispered that I may need to intervene if the other children were to get their turn. "Ooops!" he said, "that's my daughter". We didn't spoil her fun and everyone was seen and went away happy. A new generation of book collectors had been well served.
In 2009 Andrew Marr was our opener and proved to be a superb and entertaining patron. On the day that Gordon Brown's government appeared to be in meltdown. I was convinced that he would have to leave at any moment and rush off to some BBC studio to report on the mass resignations that were happening at an extraordinary rate. In the event, he kept looking at his Blackberry and saying "another one's gone!". I asked him if he needed to be anywhere else. He replied that the book fair was much more fun than a bunch of politicians. His opening speech was entertaining and his impression of Gordon Brown saying "I'm not going" over and over again had everyone laughing. His opening statement included "Politics is not serious. Food, Alcohol and Books are serious" and "Technical gadgets will not replace books."
Sadly, the Antiques Fair was subject to a management buyout and we lost our direct link with the fair. We were well established by then and the fair continued to prosper. After 11 happy years as Book Fair Chairman I stood down and Robert Frew took over for the next two years. His energetic style breathed even more life into the event. Robert prepared the way for our next move; from Olympia 2 to the bigger and grander venue known as the National Hall, Olympia. In 2012, with Brian Lake as chair, the fair moved to the larger site. It was the huge success that it continues to be, now under the direction of Tony Fothergill.
Forward Thinking... The Fair Evolves
After many years at Olympia, the Antiquarian Booksellers' Association Summer Fair moved in 2018 to its new home at Battersea Evolution which is located in one of central London's beautiful parks. The ABA Rare Book Fair London was opened by Sir David Attenborough, an avid book collector and Honorary member of the ABA, and three thousand visitors were welcomed over three days.
The Battersea area is a major hub for business. Global giant Apple will open its European HQ here in 2021. The regeneration of Battersea Power Station is attracting locals, tourists and residents who can enjoy the restaurants and cultural spaces. Access is easy – by bus, boat or train.
The three-day Summer Fair under the direction of Pom Harrington and with its new branding, Firsts: London's Rare Book Fair, will open on Friday 5 June 2020 and showcase and offer for sale first editions, first appearances in print, firsts books to mention something new, first appearance of drawings and illustrations, an author's first book, to name a few.
We look forward to welcoming new and returning exhibitors, dealers, beginner collectors and the public to: "one of the most prestigious bibliophilic happenings in the world" (Bloomberg.com).