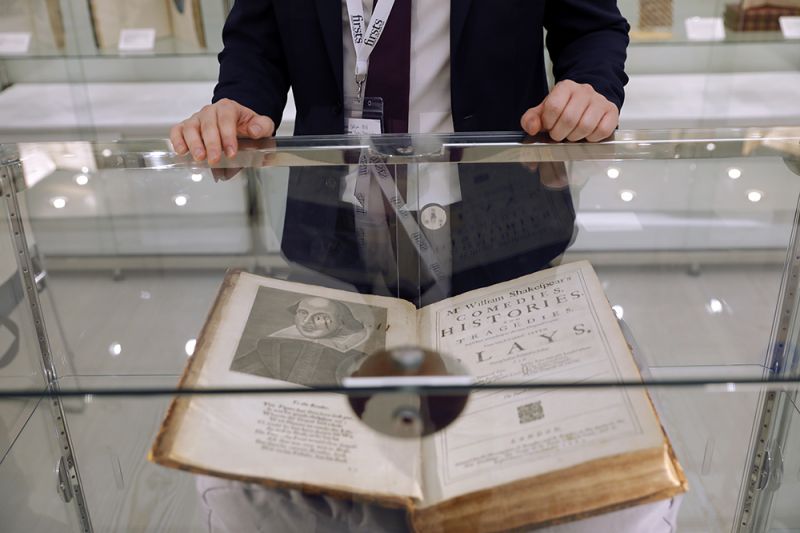 Firsts: London's Rare Book Fair returns to Saatchi Gallery 18–21 May 2023

Firsts London is one of the most popular and prestigious rare book fairs in the world, showcasing unique and unusual items from over 100 leading UK and international dealers. As the Antiquarian Booksellers' Association's premier annual fair, it attracts a diverse audience of collectors, dealers, enthusiasts and the curious alike.
Found in the heart of Chelsea, booksellers of old and rare books, manuscripts, ephemera, maps and more take up their stands across the three floors of Saatchi Gallery.
As an exhibitor you can expect to see old friends and welcome collectors, while showcasing your collection to thousands of visitors over four days.
As a visitor you can expect to see some of the rarest and most unique books available, not to mention unique memorabilia and stunning artworks in their own right.

---
Firsts London 2023 | Shakespeare: 400 years of influence
In choosing a theme for Firsts London 2023, it would have been hard to ignore the 400th anniversary of the publication of Shakespeare's First Folio. Arguably the most influential work in the English language, the 36 plays compiled in the First Folio contain plots, characters, and motifs which form the bedrock of the Western literary canon, resurfacing endlessly in adaptations, references, and echoes at every level of culture. With an incredible wealth of material which spans centuries and continents, exhibitors attending Firsts London are uniquely placed to demonstrate the breadth of Shakespeare's influence on the printed word, which has explicitly and implicitly shaped many of the stories we tell about ourselves, and the language we use to tell them.

The wide-reaching marks of Shakespeare's pen take us to some unexpected places: from the plot devices of Jane Austen to the poetry of Maya Angelou; from a mobile forest marching to war over the plains of Middle Earth to the tercentenary celebrations of Shakespeare's life held across the Arab world in 1919. This year's fair gives exhibitors the chance to showcase items which bear the bard's inky fingerprints, however faint. As Nelson Mandela movingly said (referring to the copy of the Collected Works that was his companion throughout his 18-year incarceration on Robben Island), "Shakespeare always seems to have something to say to us." We hope to hear it through the extraordinary books, manuscripts, and works on paper that will appear at Firsts London this year.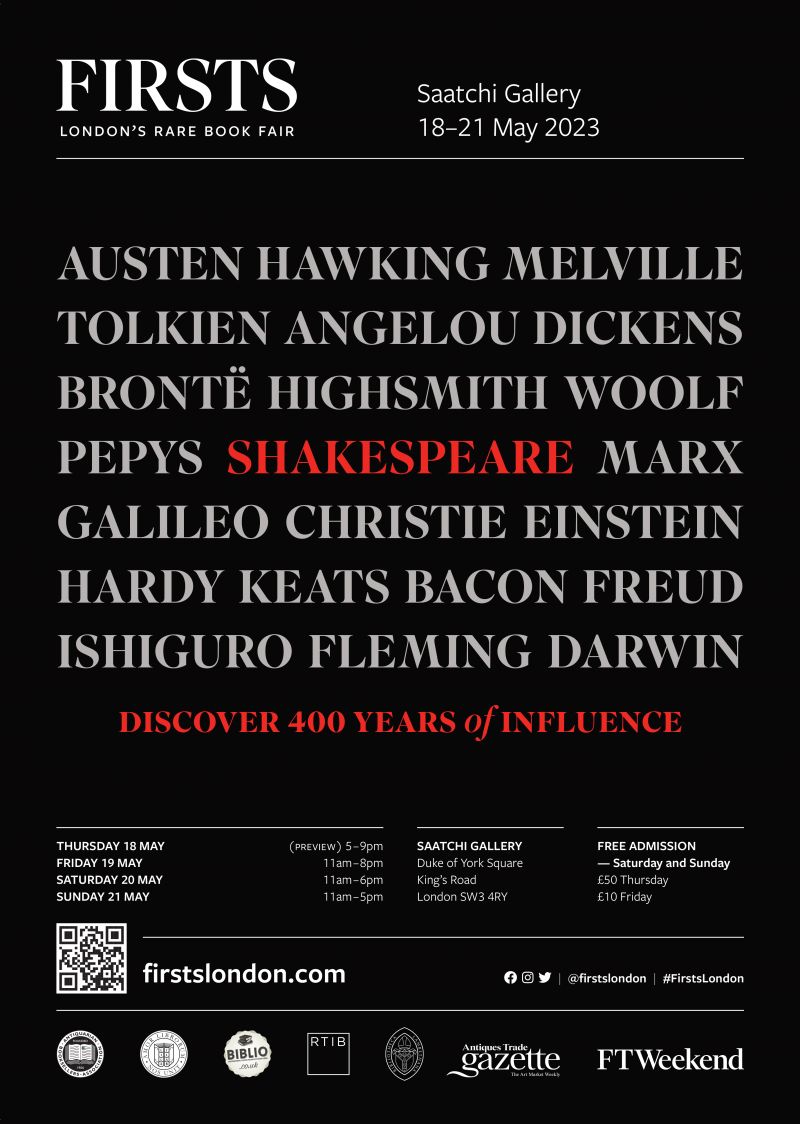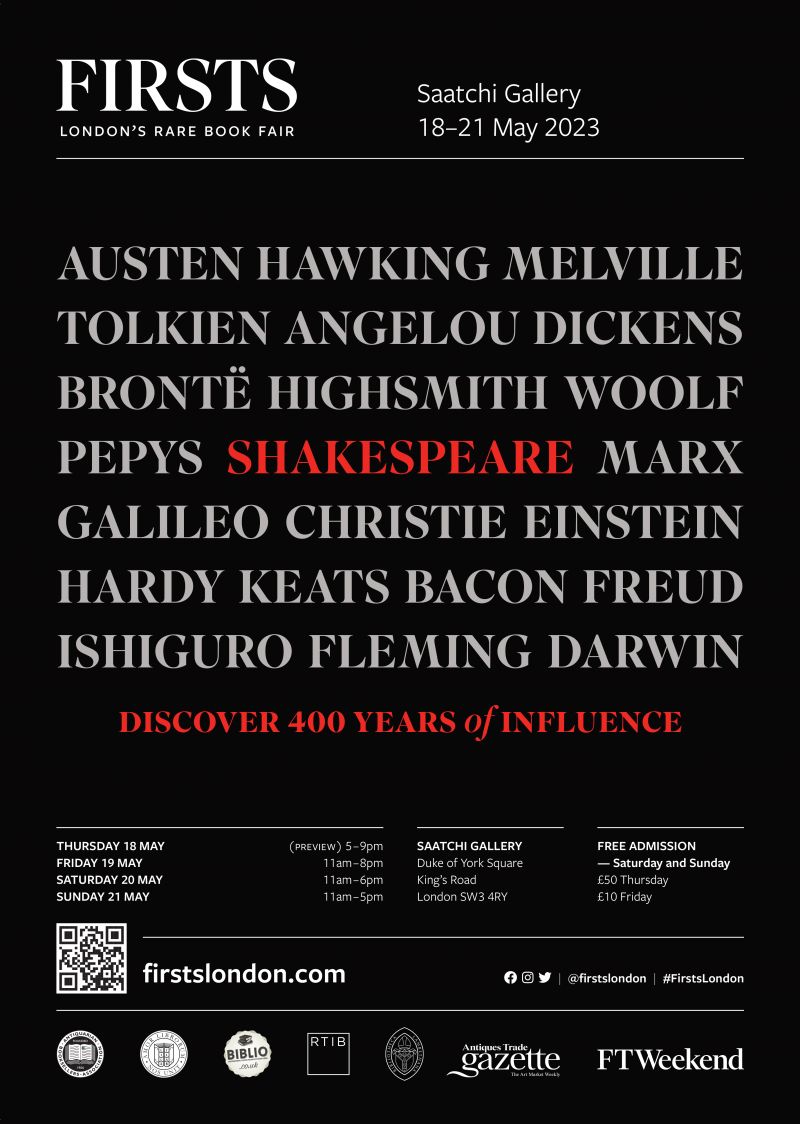 ---
Entry

Preview Night on Thursday 18 May. Tickets (available soon via Eventbrite and on the door) - £50 each (17:00-21:00)
Tickets required on Friday 19 May. Tickets (available soon via Eventbrite and on the door) - £10 each (11:00-20:00)
Free entry on Saturday 20 May (11:00-18:00)
Free entry on Sunday 21 May (11:00-17:00)
---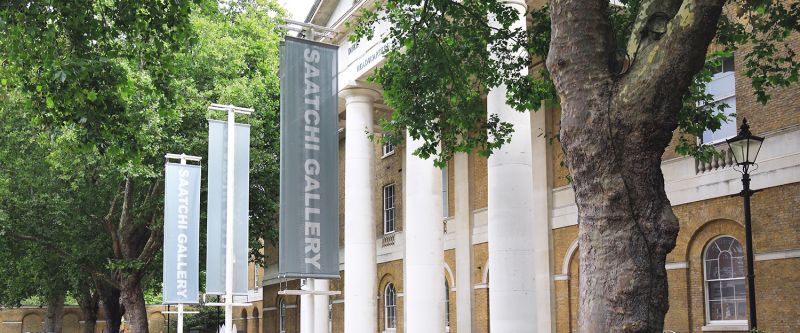 Plan Your Visit
Getting to the Firsts London is easy by train, bus and underground.
Saatchi Gallery, Duke of York's HQ, King's Road, London SW3 4RY
Underground
Catch the District or Circle lines to Sloane Square station and Saatchi Gallery is right outside the station.
Bus
11, 19, 22, 49, 211, 319 (King's Road)
11, 137, 211 (Lower Sloane Street)
Train
The nearest mainline railway station is Victoria. It's 10-12 minutes' walk to Saatchi Gallery.
Access
Assisted or ramp access is available at the Gallery's main entrance. All floors have lifts and there is level access between the galleries on each floor. Wheelchairs are available upon request. There are two blue badge disabled parking bays to the rear of the Gallery which can be accessed via Turk's Row off Lower Sloane Street. Booking well in advance is essential. To reserve a disabled parking bay or a wheelchair please email foh@saatchigallery.com or telephone 0207 811 3077.